About Downtown Wilmington and WDI
Downtown Wilmington is the economic and social hub for the region, and basically, it's just an incredibly cool place. Downtown investment has grown tremendously since 2014, and more than $650 million has been invested in the past 6 years in apartments, condos, and hotels throughout the central business district. We have added more than 1,100 new housing units (primarily apartments and condos) during that time, with more than 350 additional units under construction this summer. Downtown is home to about 880 businesses, 7,969 housing units, and more than 13,500 residents. As a hospitality and tourism center, Wilmington also boasts an amazing 1.75-mile-long Riverwalk, hotels, convention and meeting space, museums, cultural facilities and one of the largest historic districts in the County. WDI has arguably been the primary "get it done" development organization in our Downtown since 1977.
Mission, Vision & Values
WDI's mission is to promote the economic growth and development of downtown Wilmington. We are a public-private partnership, and these are the essential components of our mission: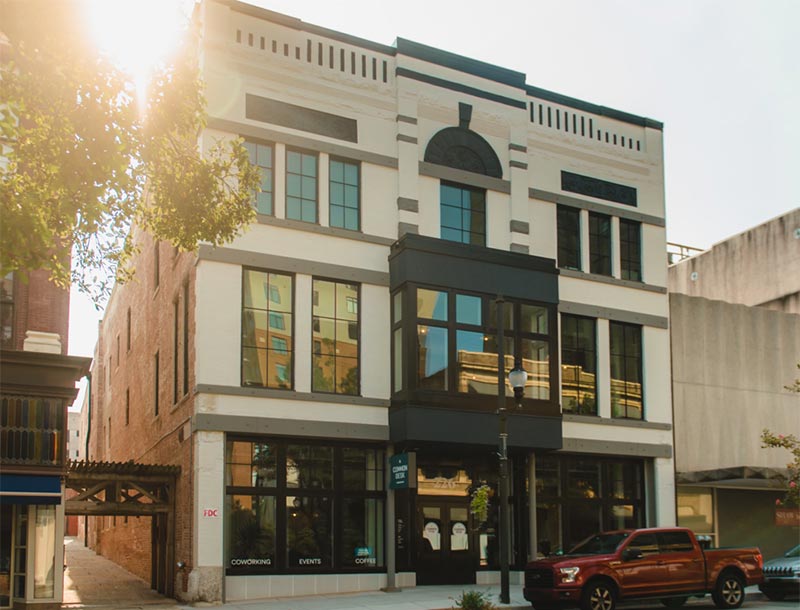 Using demographic data and market research, WDI staff and volunteers identify opportunities for new entrepreneurs and seek to attract new investment into Downtown. To maintain and enhance Downtown's mixed-use character, WDI works with retail, restaurant, hospitality, residential and office prospects.
Develop the Downtown Economy
Wilmington Downtown, Inc. helps to maintain a healthy economic mix, improve real estate values, grow the sales tax base, and create jobs. WDI works to encourage and facilitate a wide range of growth initiatives. We connect people to real estate that is available for lease or sale, assist in economic incentive programs including historic preservation tax credits, research special zoning and land use codes, and collect parking data and development trends. We also administer our Microloan program to directly assist small businesses.
To keep Downtown attractive to investors, shoppers, tourists, diners, patrons of the arts and residents, Wilmington Downtown works with local government and private interests to make physical improvements and manage public spaces throughout Downtown. This encompasses preserving Downtown's historic character, enhancing the scenic riverfront, revitalizing significant old buildings, beautifying streets, buildings, sidewalks, alleys, and other public spaces. WDI also works closely with law enforcement officers to provide a safe environment for workers, shoppers, clients, visitors, and residents.
To ensure that the region's residents, as well as tourists, visitors, and potential investors are aware of Downtown's unique attractions and importance to the region's economy, Wilmington Downtown promotes Downtown using multiple platforms. Through news media contacts, press releases, a newsletter, web site, social media, and other means, Wilmington Downtown collaborates with tourism, economic development, and cultural organizations to promote Downtown throughout North Carolina and across the nation as an attractive visitor destination and business location.
Support Existing Downtown Businesses
To maintain a healthy and diverse central business district, WDI helps retailers and other Downtown businesses by assisting with regulatory and financing issues, parking and public safety, events, and promotion. WDI also produces two Downtown Economic Series events annually to highlight our projects and progress.
Assist with Site Selection
Through our knowledge of Downtown real estate, development trends and ownership patterns, WDI can help prospective investors identify optimum locations for shops, offices, residences, or hotels. We work on a free and confidential basis to help identify sites for acquisition, location, or development.
Act as a Liaison Between Diverse Interest Groups and Government
Downtown has many constituencies, whose interests sometimes diverge retailers, residents, commercial property owners, office tenants, restaurants and nightclubs, government agencies, shoppers, diners, and tourists. To help these groups find common ground, to help local government communicate with private interests, and to help represent private interests before government agencies is an essential role for Wilmington Downtown.
Staff & Board of Directors
With a passion for the Port City, our team knows what makes Downtown Wilmington so special. Focused on encouraging business owners, supporting the residential community and collaborating with local officials, the WDI team is here to support the long-term growth and success in our local community.
Meet The WDI Team
Become A Partner
Partnership means something different here. By becoming a partner, you're becoming a part of the future of Downtown Wilmington and supporting the larger Downtown community. We're looking for partners who are just as passionate as our team to help steer our current and future plans towards a brighter future in Downtown Wilmington. Whether you're a business owner looking to invest in your local community or you're a local looking to get involved, there are opportunities for you to be involved in what comes next.
How To Contribute
WDI Newsroom
We aim to be a resource for all things happening Downtown! From development projects to business spotlight features, Wilmington Downtown, iNC wants to share the story of all our Downtown partners. Submit a story or business spotlight by emailing office@wilmingtondowntown.com.
Get WDI Updates And News