About Our Municipal Service District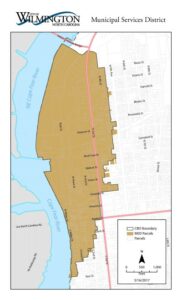 WDI manages the 70-block Municipal Service District (MSD) on behalf of the City of Wilmington, providing services intended to improve the safety, cleanliness, and vitality of our Downtown. While the MSD provides a range of services, the centerpiece of the program is the Ambassador Program. WDI contracts with Block by Block, a nationally recognized leader in hospitality, facility safety, and maintenance.
Our MSD Ambassadors are an excellent source of knowledge about Downtown, providing visitors, business owners, and residents with extra safety, hospitality, and cleaning services within the district. You can spot them around the city in our MSD green.
Not only do our Ambassadors add an extra layer of services for the Downtown Community, but they are also a fantastic source of information to make your Downtown experience great!
Ambassador Program
Do you need suggestions on where to shop or eat? Directions to a Downtown attraction? An escort to your car? Or extra cleaning in front of your business? Ambassadors are the go-to resource for all who come Downtown to invest, live, and explore.
The MSD Ambassadors Program offers the following services within the district:
Graffiti Removal
Pressure Washing
Litter Removal
Safety Escorts
Street Light Outage Reporting
Hospitality Assistance
Thomas Peterson

MSD Ambassador Team Lead
David Poppe

MSD Ambassador
Shanta Cuthkelvin

MSD Cleaning Ambassador
Christopher Brown

MSD Ambassador
Robert Swanson

MSD Ambassador