About Our Municipal Service District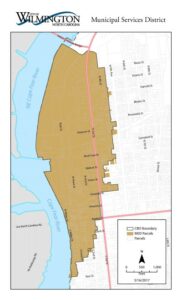 WDI manages the 70-block Municipal Service District (MSD) on behalf of the City of Wilmington, providing services intended to improve the safety, cleanliness, and vitality of our Downtown. While the MSD provides a range of services, the centerpiece of the program is an Ambassador program that WDI coordinates with Block by Block, a nationally recognized leader in hospitality, facility safety and maintenance.
Ambassador Program
Do you need suggestions on where to shop or eat? Directions to a Downtown attraction? An escort to your car? Ambassadors are a great resource Downtown providing us with extra safety and security. You can find them in green and they are a fantastic source of information to make your Downtown experience great (kind of like a park ranger, but even better!).
Our Ambassadors help improve our downtown by providing these services:
Graffiti Removal
Pressure Washing
Litter Removal
Safety Escorts
Street Light Outage Reporting
Hospitality Assistance
David Poppe

Cleaning Ambassador
Shanta Cuthkelvin

Cleaning Ambassador
Emily Hackley

Hospitality Ambassador
Chris Cox

Hospitality Ambassador