Details:
In October, Parastream Development announced one of the largest land acquisitions Downtown in recent years, purchasing more than 7 acres in the Soda Pop District.
WDI has been working closely with this developer to facilitate conversations with local leaders and future tenants. The efforts of Parastream Development to redevelop a more than three-block area will continue the ongoing revitalization of the growing Soda Pop District community.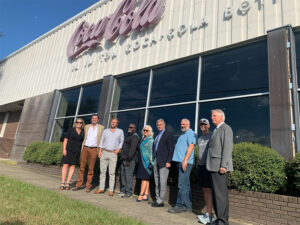 The land purchase included the building once home to the Coca-Cola bottling facility from which the district gets its name. This adaptive reuse, multi-phase project will add manufacturing, retail, and residential to the district.
The area is surrounded by several notable local businesses already in the district, such as Folk's Café, Cucalorus Festival headquarters, Jengo's Playhouse, Northside Food CO-OP, and Hi-Wire Brewing.
Parastream Development partners acquired and redeveloped Hi-Wire Brewing, formerly a 1950s car dealership. This 8,000 square-foot taproom opened in late 2020 and is part of an Asheville-based network of breweries located in three states: North Carolina, Tennessee, and Kentucky.
View the video here of a joint announcement between Parastream and WDI in October:
Parastream Releases Renderings of "The Bottle Works Building" project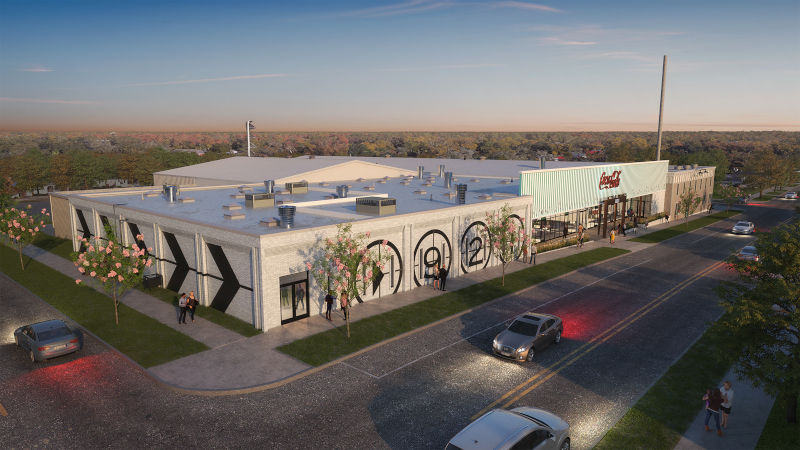 Image: Rendering of phase one of The Bottle Works Building, the entry on Princess Street.
WILMINGTON, NC – Parastream Development has released renderings of "The Bottle Works Building" project, which incorporates the redevelopment of the former Coca-Cola Bottling Plant in downtown's growing Soda Pop District.

This two-phased adaptive reuse project is conceived by Andy Hewitt and Sandy Thorpe of Parastream Development in conjunction with Bruce Bowman, of Bowman Murray Hemingway Architects, and Monteith Construction Co. 
Phase one construction of the reimagined Bottle Works Building will begin in March with completion anticipated this summer.
In phase one, Parastream Development expects to invest about $2 million upfitting the former Coca-Cola Bottling Plant located at 921 Princess St. The building sits on more than 1.5 acres in one city block bordered by Chestnut, Princess, Ninth and Tenth streets.
Parastream Development, the developer of Hi-Wire Brewing-Wilmington, acquired the property in a more than 7-acre, joint-venture purchase in the Soda Pop District last October. The land purchase, which included more than three city blocks of vacant parcels and buildings, was $8 million.
"The Bottle Works Building is a unique product coming to Wilmington offering well-designed urban flex space for makers who need a central presence downtown and could get lost in an industrial park setting. BMH and Monteith have helped develop a design to activate the building and make it interactive for its tenants and consumers. We are proud to bring this product to the Soda Pop District as another contribution that will add to this growing neighborhood with more announcements to come soon in retail and hospitality," said Sandy Thorpe, a partner with Parastream Development.
The redevelopment will enhance the Soda Pop District's already thriving business community, including establishments such as Folk's Café and Jengo's Playhouse, home to the Cucalorus Film Festival.
Bruce Bowman, AIA – Principal with Bowman Murray Hemingway Architects, said the design of The Bottle Works Building project centers on "reactivating the neighboring streetscapes, including a new mercantile storefront along Princess and 10th streets and repainting the structure to include film-inspired graphics bordering the Cucalorus Complex to the West."
"Factory and storage tenants will be able to have storefront presence to provide an innovation incubator which will be at the center. This is part of a new chapter of the emerging Soda Pop District that will compliment Hi-Wire Brewing and other recent adaptive reuse projects in this area," Bowman said. "Many of these projects result from the city's new UMX Zoning District that also helped foster redevelopment in other previously underutilized areas such as the South Front District."
The first phase of The Bottle Works Building project includes approximately 74,000 square feet with leasable areas ranging from 400 square feet to 12,000 square feet. Craftspace, a manufacturing business that upcycles shipping containers, is leasing 5,000 square feet with plans for additional expansion. There are other short-term tenants in the film industry currently utilizing the site.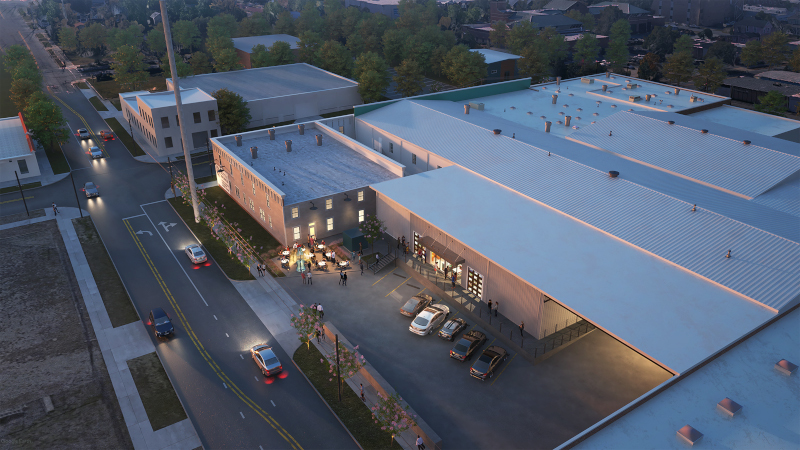 Image: Rendering of phase one, and the back of phase two, facing Tenth Street near the intersection with Princess Street.
The multi-tenant, urban-flex warehouse is ideal for a variety of uses, including maker space to accommodate light manufacturing, assembly, warehouse, and distribution, in addition to office and retail with storefront opportunities. Plans also include communal loading docks and drive-in bays, along with other shared amenities.
The second phase will include about 13,000 square feet adaptive reuse of the 1920s historic Bottling Works Building that is currently hidden behind metal panels on the corner of Princess and 10th Streets, Bowman said. The former Coca-Cola Bottling Works was Wilmington's first modern bottling plant.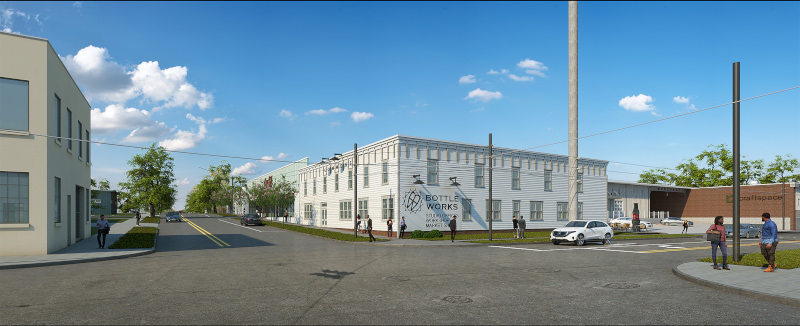 Image: Rendering of phase two of The Bottle Works Building Project, which includes the adaptive reuse of the 1920s building at the intersection of Princess and Tenth streets. (A historical photo of the same vantage point and additional detail on the building's history are included at the bottom of the press release.)
Phase two of this exciting adaptive reuse project maintains the building's primary storage uses, but subdivides spaces, adds support spaces, and will accommodate new uses, including factory, mercantile, and limited assembly uses with future phases possibly accommodating a co-working office and shared studio environment.
"We're excited to be a part of this team with Parastream, Monteith and Bowman Murray Hemingway. The planning and investment into the new Bottle Works Building will be a unique opportunity for growing businesses and for the community," said Tyler Pegg, a broker with The CRESS Group at Coldwell Banker Commercial Sun Coast Partners.
Pegg, Will Daube, and Cody Cress with The CRESS Group at Coldwell Banker Commercial Sun Coast Partners are the leasing agents for the property.
"Wilmington Downtown, iNC (WDI) is thrilled to offer our support to this transformative, multi-block project happening now on the City's Northside. The adaptive reuse and investment by Parastream in this historic property within the Soda Pop District will create new opportunities for manufacturing jobs – especially those in the sustainability sector like Craftspace – and is a welcome addition to our downtown. This entire district will benefit from today's investment in The Bottle Works Building as a catalyst for future development of neighborhood retail, restaurants, hospitality and housing," said Holly Childs, WDI's president and CEO.
Further details on the history of the property are below, courtesy of New Hanover County Public Library:

Title: Coca-Cola Bottling Plant, northwest corner Tenth and Princess streets.
Subject: Coca-Cola, Coke, Plant, N. Tenth Street, Princess Street, Hutaff
Description: "In the early 1880s, Henry Hutaff (1834-1893), a native of the Province of Hanover, Germany, was bottling soda water, ginger pop and sarsaparilla, taking advantage of a new invention whereby ordinary water was charged with carbon dioxide which caused it bubble and fizz. This was the first modern bottling plant in Wilmington. Henry's son, George Henry Hutaff (1874-1957) inherited the business and bought a franchise for a new soft drink, Coca-Cola, in 1903. The first plant was in the rear of his residence on Seventh Street, between Chestnut and Grace streets. Later, the plant moved from his backyard to a building on the north side of Campbell Street near the intersection of Sixth Street. The building on the left of the photo was opened on April 5, 1913. The business expanded across the street in the early 1920s."
Source: "Courtesy of New Hanover County Public Library"
Copyright and Use Restrictions: The materials included in the North Carolina Room's Digital Collections are made available for research, teaching, and private study according to United States Copyright law. The user assumes full responsibility for clearing any copyright protections prior to use of any item. Unless otherwise stated, the North Carolina Room requests that the use of any item be credited to New Hanover County Public Library with the statement "Courtesy of New Hanover County Public Library" and a link to the digital item. If you are a copyright holder who is incorrectly identified or a copyright holder who does not wish to be identified, please contact the North Carolina Room at 910-798-6305 so that we may make corrections. The user hereby agrees that all manuscript, archival, photographic and other personal papers in the possession of the New Hanover County Public Library or any publications or documents of the Library itself, are the sole property of the New Hanover County Public Library and may not be used or reproduced in any manner without written permission of the Library Advisory Board of the New Hanover County Public Library or duly appointed representative. All materials reproduced in any format (printed publication, broadcast, digital or other), must be accompanied in print with the caption, "Courtesy of New Hanover County Public Library" and must also include a link to the digital item.