Details:
The Gateway project is a public-private partnership between the City of Wilmington and East West Partners to bring a multi-block mixed use development to Downtown's North Waterfront District.
Planned for a three-block span in the city's Northern gateway, bordered by Third and Front streets, the development is slated to include a hotel, grocery store, retail space, parking, and residential units.
The project was proposed to the City of Wilmington in 2019 and is currently in the planning stages.
WDI is working closely with East West Partners to bring tenants to the site as well as to facilitate conversations about this prime development opportunity for a largely undeveloped network of properties in one of the most highly-traveled entryways to Downtown.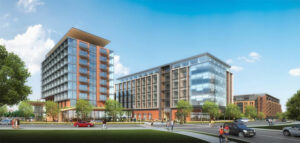 The Gateway site offers a rare opportunity to create large-scale positive change to the urban fabric of Downtown Wilmington. It's surrounded by several large developments, including the new Live Oak Bank Pavilion and Riverfront Park, Flats On Front, Sawmill Point Apartments, and the headquarters building of PPD, a global contract research organization.
East West Partners has already developed several large-scale projects in our Downtown: River Place, the 13-story mixed-use development at 14 Grace St.; as well as the historic Gaylord Building at 226 N. Front St., which is now Common Desk, a three-story cowork office and event space, that is also home to WDI offices.